About Us
Since launching in the US in 1991 JAN-PRO has emerged as the fastest-growing commercial cleaning franchise in the world. We offer the best customer service guarantee in the commercial cleaning industry – a sign of our high quality standards – and the most comprehensive franchisee training in the sector. We're the industry leader in commercial cleaning and we've been perfecting cleaning processes, services, products, equipment and technologies for over 25 years.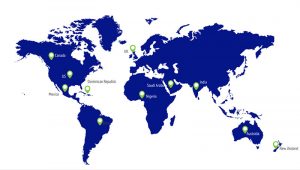 Today we operate franchise businesses in 11 counties around the globe. That's over 146 Regional Franchise Partners and more than 10,000 Unit Franchise Partners servicing over 55,000 customers. In 2020 JAN-PRO is listed in the top 100 Global Franchises by Franchise Direct and JAN-PRO has now been named the #1 Commercial Cleaning Franchise for the 12th successive year by Entrepreneur magazine.
Global Brand, Local Service
JAN-PRO is firmly established in the UK from our base in London. With an operating model that's proven to work around the world, we're turning our intial focus to expanding JAN-PRO's franchise network coverage across Greater London.
This is a fantastic opportunity for enterprising and entrepreneurial-minded individuals seeking to build and run a successful franchise business. JAN-PRO Franchise Partners enjoy the benefits of being part of truly global brand that boasts a proven success rate and provides an established support network.
Our Unique Franchise Model
The JAN-PRO franchise system is structured around a unique model where a dedicated Sales and Marketing function wins you work so you don't have to. This model offers Unit Franchise Partners opportunities in their exclusive market to run and manage contracts within their budget and at their pace of growth.